The Advantages of RoboDrill
Speed, precision, and quality show up time and time again no matter what you cut on the RoboDrill, whether you machine with the standard 3-axis setup, or you integrate a rotary table for 5-axis machining, or you scale up through Methods Automation.
RoboDrill spindles operate at 10K – 24K RPM vs. the competitive 30 taper machine's spindle that maxes out at 16K on most models
RoboDrill's 24K spindle achieves higher rigidity than the competitors 27K spindle
TCP with rotational axis compensation
Lifetime maintenance policy
9-year mean time between failures on a RoboDrill vs. 5-year failure rate for competitive 30 taper
5,000,000 tool changes on a RoboDrill before preventative maintenance is required (60-second cycle times, 2000 annual hours, at 60 parts per hour)
User-friendly FANUC control features advanced functions and user interfaces, conversational programming, and collision detection.
Easier programming for operators
Reduced risk for errors
Improved efficiency
High-speed, 0.08 ms skip function vs. 2.9 ms for competitive 30 taper machine
Methods is the premier FANUC integrator in the U.S.
We add rotary tables so you can achieve full 5-axis machining capability.
Methods uses trusted products from Tsudakoma, Häberle, and others to scale your production.
Enjoy higher gross margins and profitability when your machine, rotary tables, automation, and RoboDrill are all built, deployed, and serviced by one partner.
MAXIMUM RETURN ON INVESTMENT
The math is clear: To get the most value out of your floor space, the RoboDrill (especially when coupled with Methods Automation) delivers the fastest time to ROI and the most revenue.
Don't believe us? We'll show our work: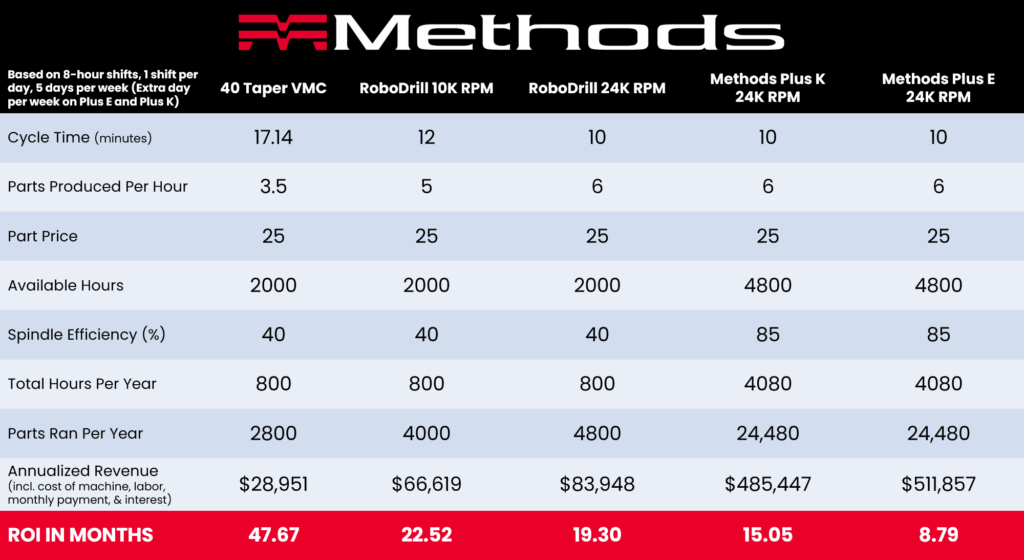 ROI Calculator
See how quickly you can expect our custom-engineered and automated CNC machines to deliver on your investment.
Automated Solutions Available
Choose from a variety of custom automated FANUC RoboDrill solutions from Methods. Our team of automation experts collaborates with you every step of the way, from initial planning and selecting the right machines, to work-process design and application engineering, to the final on-site installation and proof of concept and capability.
---
RoboDrill Cutting Strength
30-taper Cuts Like a 40-taper
See how the FANUC RoboDrill handles hard metals.
---
RoboDrill Integrations
Unleash the Power of 5-Axis
See how Methods Machine Tools integrates 5-axis tables to scale the production capabilities of the FANUC RoboDrill.
See Proven Results
Job Shop Implements 5-Axis RoboDrill with Methods Automation to Fuel Growth
Operose founder Tyler Stilson wanted to increase his throughput with automation. His space at his at-home workshop was limited, and he needed something he could run lights-out.
GET MORE INFORMATION
Ready to get started? Our RoboDrill experts are standing by.