Case Study
Job Shop Implements 5-Axis Technology, Automation Systems, to Achieve Strategic Growth
Request
Information
---
Problem
After growing with Methods to implement 5-axis and multitasking technology, Operose founder Tyler Stilson wanted to increase his throughput with automation. His space at his at-home workshop was limited, and he needed something he could run lights-out.
Solution
Methods recommended the RoboDrill Plus-K. Stilson had one installed at his at-home shop, then two others at his main facilities.
---
Results
The first Plus-K ran nearly nonstop for 13 months.
The utilization rate exceeded 85%.
Reduced downtime.

If you've tried to screw your eyeglasses back together or made a typo on your phone, you know how hard working with small parts can be.
In machining, the stakes are much greater. Messing up a job can cost you a contract or a customer. In such an event, you can't apply a quick-fix solution like taping your glasses or sending a quick follow-up text message.
Working Small Means Thinking Big
Growing a machine shop takes vision. And Tyler Stilson's eyesight is 20/20.
His job shop, Frederick, Colo.-based Operose Manufacturing, can produces a wide range of products, from fluid control mechanisms to commonplace sporting goods. They handle complex machining jobs, from prototyping to large-scale production runs, and glide through any metal.
However, Operose didn't start that way. When he founded the company in 2007, he had one mill and one lathe. However, he had big ideas and aspirations. He wanted to reinvent the way job-shop manufacturing works. He sought a partner that would help him achieve his vision.
"The idea was to change the way we process parts. There were a lot of times in the standard manufacturing M.O. where you setup the first operation and run 50 parts, setup the second operation and run 50 parts, and then when you get to the third operation you realize there was a mistake on the first operation because the part wasn't complete."
Tyler desired a pathway into 5-axis machining. At the time, Operose manufactured parts with intricate features on different angles. That required offsets, small-tapped holes, winding tool paths, and careful workholding.
But he had many questions. Tyler wasn't familiar with 5-axis programming or software. He wasn't sure if he needed simultaneous 5-axis machining or if 3+2 was the right choice.
So, he reached out to Methods Machine Tools.
Stilson had previously worked with Methods' service and application teams at his uncle's shop, a 35-person facility where he managed most day-to-day operations. That's where he first encountered the RoboDrill. The machine's widely known on the floor for its reliability and repeatability in 5-axis work.
He turned Methods' Phoenix Technical Center to learn more.
"We were kind of left with researching a lot of that on our own," Stilson said of figuring out 5-axis machining. "And we relied on the Methods team; we told him what we wanted to do and he showed us how to do it."
One of the shop's first forays into next-level technology came in the form of a rotary table on an existing RoboDrill.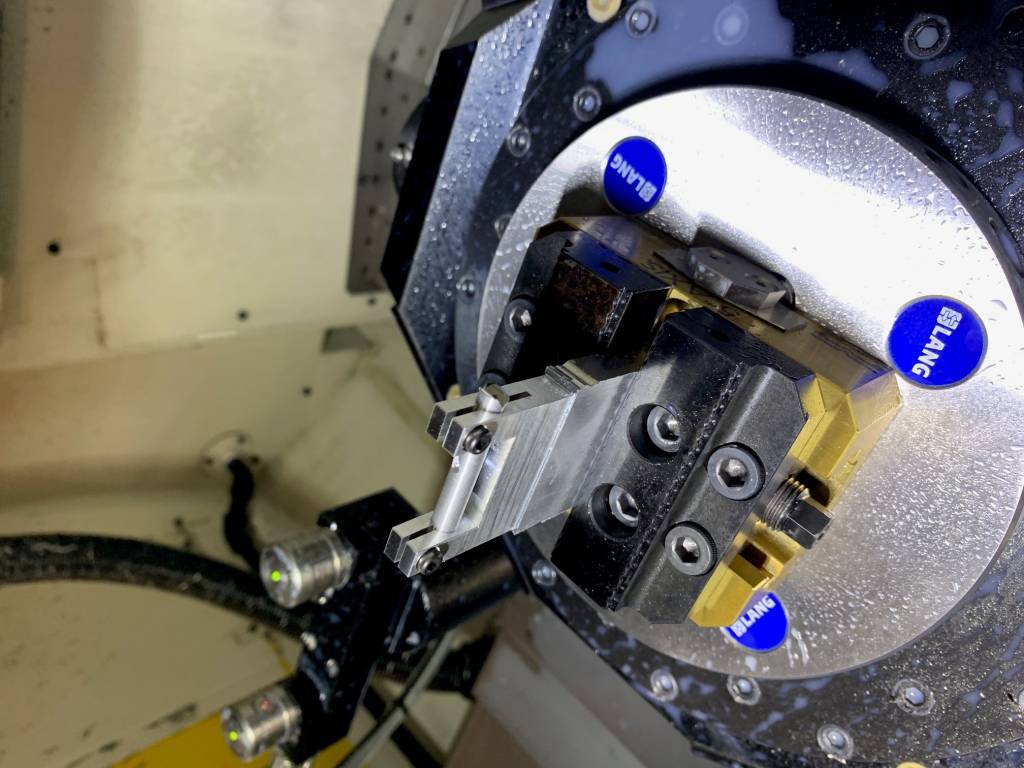 "In less than two weeks, every single one of us reached the same conclusion – we needed to figure out how to do this again," he said. "Getting at the parts with a 5-axis machine was incredible, we saw huge opportunities to save money and improve our quality."
Armed with the knowledge of 5-axis machining, Operose installed a second rotary table in 2012. The company soon developed its own product line, barbells and barbell collars, which proved so profitable, the job soon took up 60% of the shop's capacity.
Rapid Results from Rotary Table Evolve into Multitasking
Now tasked with meeting the demands of high-volume production, the company purchased a Nakamura-Tome Super NTMX, a multitasking machine that provides the capability of a 5-axis machine and the reliable throughput of a lathe. Operose was another step closer to automation, equipped with new machining capabilities such as a tool spindle, lower turret, and 72 tool stations.
"Being able to eliminate touch time and get more sides done with less handling made an incredible impact on our shop, it was a big leap. It was either NTMX work or 3-axis RoboDrill work."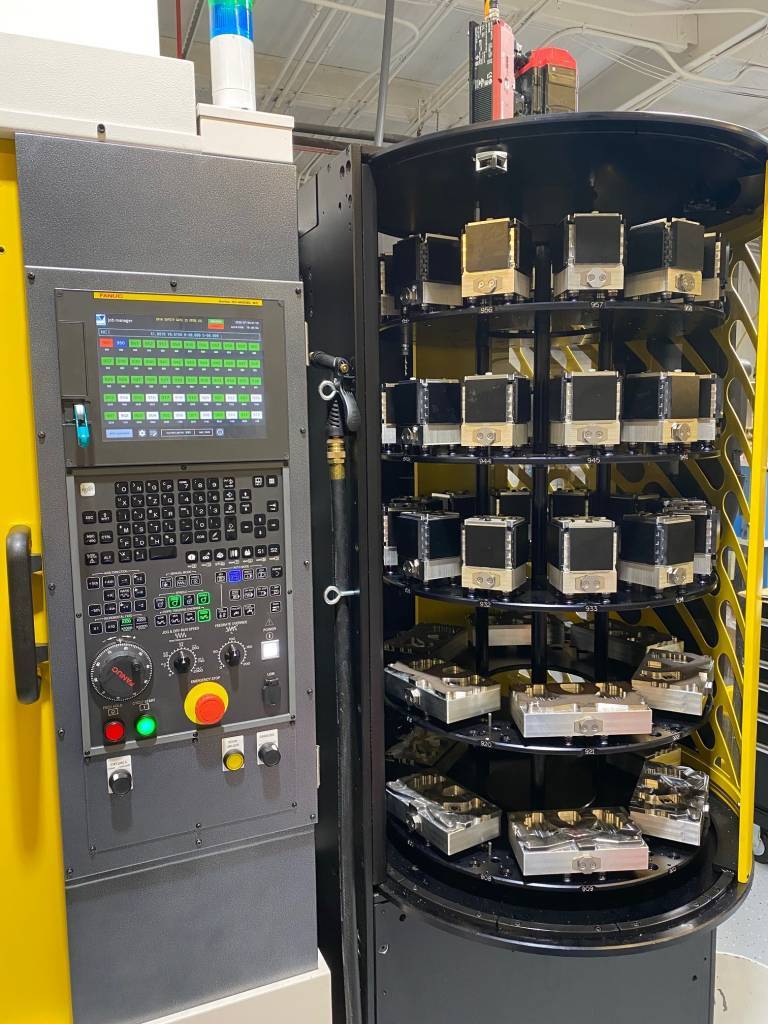 With his sights set high, his shop began to grow in terms of size and capability. Operose acquired a second shop, 3D-CNC, in Hutchinson, Minn., and Stilson started a testing environment for machinery and automation at his home in Mankato, Minn.
Operose became comfortable with more complex technology, such as 3+2 machining and multitasking, and immediately realized the benefits of hands-off machining.
Next Stop: Lights-out Automation with the RoboDrill Plus-K
In the fall of 2019, Stilson began looking to test out equipment at the workshop in Mankato. Since it was his at-home lab, he needed the ability to load up a cell in the morning and collect perfect parts at the end of the day.
Given the size of the workshop and his preference for RoboDrill's ease of use and adaptability, the choice was simple: the RoboDrill Plus-K.
The system measures only 32″ wide, making it the perfect fit for Stilson's shop. And, Methods enabled the robot to recognize a standard feature on the quick-change carrier, so there's no need to program the robot.
"That's what made me decide to go with the Plus-K, solely having the ability to load it up and go do something else, whether its to leave the shop or go do something else in the shop," he said. "And I know RoboDrills, I love RoboDrills. The ability to have 60 tools and 60 pallets is pretty appealing."
In the long-term, he wants to hit specific goals for revenue per employee, an average salary per employee, and an average utilization rate on wire and EDM machines within 10 years.
While those figures are aggressive, Stilson is hopeful he can utilize the Plus-K to prove concepts in the Mankato workshop and scale-up in Operose's Hutchinson, Minn., and Frederick, Colo. shops.
The first system was installed in Mankato in April 2020. The second followed in the Colorado Shop in January of 2021, and the third was installed about three months ago. They mainly produce aerospace and medical parts made from stainless steel or aluminum.
"Part of what made it stand out was the footprint," he said. "I don't know how thick my floor is [in Mankato], and there are a lot of unknowns. I know a lot about the RoboDrill, I know it will fit. I know if I want to add more, they can fit in this shop, and I know people can use one machine, one control, and become extremely productive."
While it wasn't Stilson's first experience with lights-out automation, it's been the best so far.
"The Plus-K is a much better system, because it has 5-axes and 60 tools," he continued. "The pallet management system on the Plus-K takes about 15 minutes to learn inside and out."
Using machine monitoring software, Stilson's able to track how the Plus-K systems perform.
Continuous Production, Continuous Growth
"I ran a lot of other parts on it that I would squeeze in during the day," he said. "But anytime that I wasn't actively setting up or running another job, I would turn on these parts. So the machine was literally never sitting idle."
There are other ways Methods' has helped Operose become more productive, Stilson said.
He recalled an issue on an older machine that occurred on a machine in 2010. It was the weekend, and the chances of getting the machine back up and running were slim.
Nevertheless, Stilson wanted to keep the issue at the forefront of his mind over the weekend, so he notified his Methods technician.
About 20 minutes later, the field service technician pulled up to Operose, with his son in tow.
"Within an hour on a Saturday afternoon I was back up and running. You don't get that kind of service, typically. I don't think you can count on it, I don't think you can even ask for it, but it wasn't the only time I had an experience like that with Methods. That kind of thing, for me, is all it takes."
Operose has grown exponentially since implementing a rotary table more than a decade ago. One innovative piece of technology led to another, another, and another, allowing the shop to take on new challenges.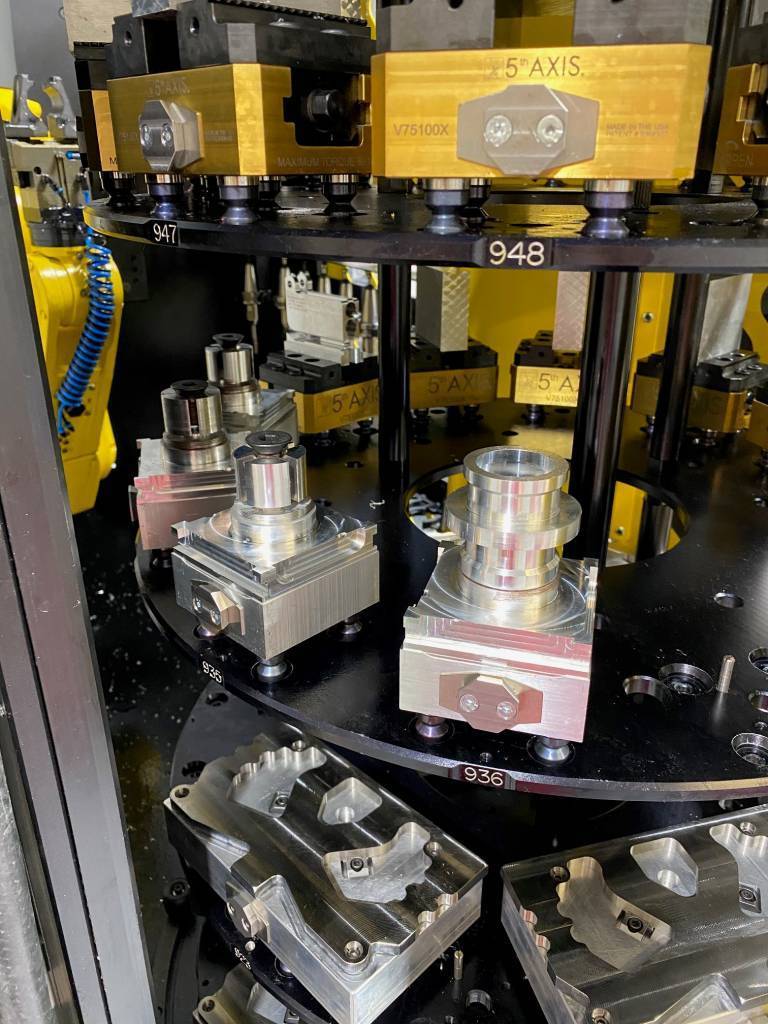 Thanks to lights-out automation and 5-axis technology, Operose can approach traditional job-shop work with a more competitive edge and take on medium-volume production runs.
And for Methods' part, Sales Engineer Darren Wall said he's grateful to work alongside such a forward-thinking, automation-friendly shop.
"Tyler's operation is different from the run-of-the mill job shop," Wall said. "He sees these new technologies and realizes what he has to do to stay competitive, and he finds a great way to execute it. Most shop owners are afraid of automation, but Tyler's progressed from a rotary table to automation systems. He's truly separating himself from the majority of shops out there with his 5-axis and automation capabilities."