This story appeared in the June issue of Modern Machine Shop
The aerospace industry has always demanded that machined parts suppliers deliver high and consistent quality. In the early days, that largely meant achieving exceptional expertise in machining aluminum. A lot of aluminum.
As cost pressures increased, high-speed machining became the go-to approach for improving metal removal rates. As a result, machine tool designs would change to focus more on achieving high spindle speeds and feedrates, and less on delivering torque at the lower end of the speed range.
New Aerospace Materials are Harder to Cut
After aluminum came the nickel-based superalloys such as Inconel, and now the ever-increasing use of the hardest titanium grades. Unlike aluminums, these hard-to-cut materials require abundant power at lower spindle speeds and extreme rigidity in the machine.
Machine tool technology is adapting to these new demands, with new solutions available that can deal with the widening range of metals and materials being cut in aerospace machining shops, delivering both high efficiency and quality across the board.
Skilled Operators are Also Scarce
As if the machining challenges are not enough, every shop now must also work around the lack of skilled labor. It's difficult for a shop owner to consider equipment needs without considering the need for dependable operators and technicians who can get the most production out of it.
Many of the people tending machines today may be good at keeping material loaded, but even the best workforce won't save you from ill-conceived processes that skilled machinists could have worked out on the shop floor.
Designing Better Aerospace Machining Processes
All of these forces are converging to change the approach aerospace shops are taking to their machining business.
Up front, the methods engineering process needs to be extremely well thought out and accurately programmed before a job hits the shop floor. Then, the equipment must be able to flawlessly execute the plan day-in and day-out, efficiently and with very little operator intervention.
The Bad News: This approach puts more pressure on job planning and requires more capable production equipment.
The Good News: Eliminating frequent shop floor tweaks to the machining process lowers labor costs and skills requirements. Better yet, it enables greater use of automation, further reducing labor costs and getting much better utilization of expensive production equipment with the ability to run unattended for significant periods of time.
The economics of this approach are very different from traditional machining–but done correctly, they can lead to a significantly more profitable aerospace machining business.
Matching Equipment to Application Needs
We have been working with machining businesses for a long time to help find the mix of technology that best fits an aerospace application need. Part of that work involves providing the right machine tool, and our Yasda line of 5-axis vertical machining centers is often the ideal solution.
For instance, the Yasda PX30i has a 20,000 rpm spindle and can feed at up to 787 ipm with rapids over 2,300 ipm. It can rip through aluminum. But the machine also includes the ability to dynamically adjust the preload on its spindle bearings so that, along with an extremely rigid machine design, it provides a very stiff platform for lower-speed, high-torque machining.
Improving Machine Utilization
There are small and large ways to automate a machining process for aerospace applications. Some of it happens right on the machine. Things like high-pressure coolant and on-machine probing can enhance and stabilize machining processes while ensuring a level of precision or eliminating the need for manually setting tools on the machine.
Once processes become stabilized using these kinds of aids, further levels of automation become achievable. The Yasda PX30i, for example, comes with a pre-integrated pallet changer with 33 stations and standard tool capacity of 323 tools that can be expanded to 513 pockets.
With this level of capability, a PX30i machine can run for extended periods of time with no operator intervention at all. On top of that, Yasda adds renowned accuracy and thermal stability, with ISO230-2 positioning accuracy of less than 0.0001″ on the PX30i.
Automated or Not, Process is Key
While fully automated cells are a marvel to behold, success for shops nonetheless comes back to well-engineered processes that enable productive aerospace machining, whether or not they include automation.
This is an area where Methods' technical staff excels, in part through our ability to work with partners such as Yasda, FANUC (CNC), Mitsubishi Materials (cutting tools) and Lyndex-Nikken (toolholders, rotary tables, presetters and more). Here's an example of that partnership at work:
With expert help, aerospace shops can get the capabilities and know-how they need without having to go through extensive trial-and-error or training processes. Shops that are machining the latest aerospace parts need solutions that work right out of the box, and at Methods we can
help you get there
.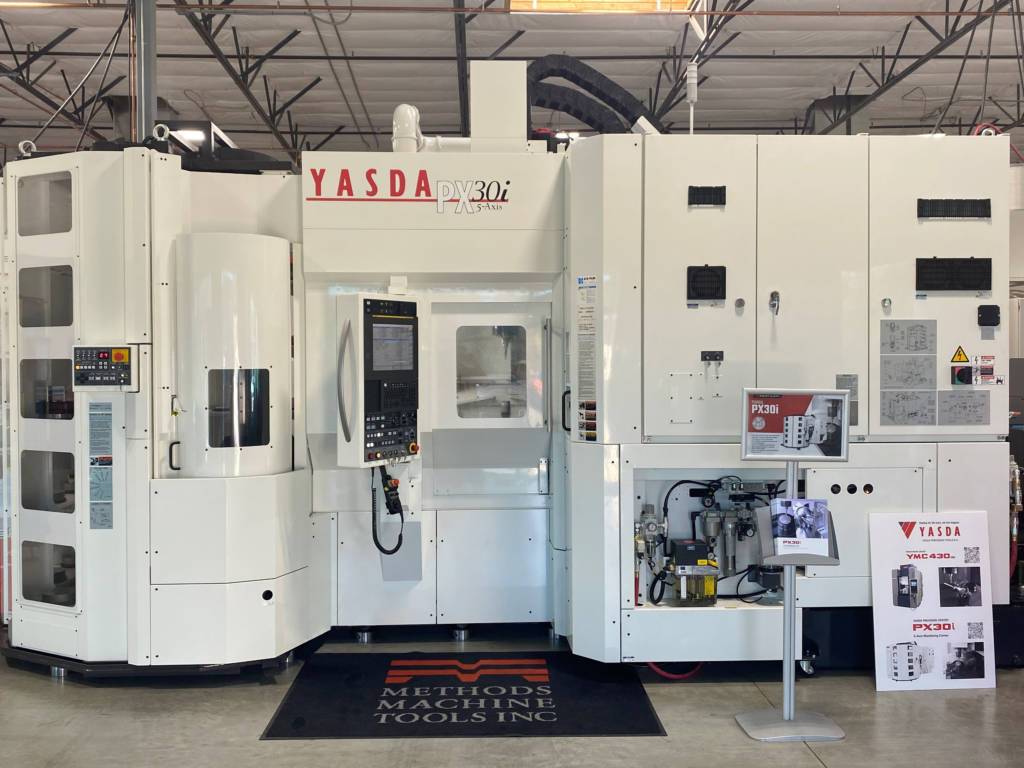 More about Yasda and Aerospace Machining: