Case Study
OKK's Slim Profile Allows Machine Shop to Add More Machines, Improve Capabilities
Request
Information
---
Problem
Min-Max Machine carefully plans for consistent growth. The company wanted a high-torque Vertical Machining Center to rough tough-to-machine alloys, but they had limited floor space.
Solution
The OKK VM-R's ability to cut titanium allowed Min-Max the production and floor space to continue their growth.
---
Results
Improved reliability compared to previous setup
Seamlessly transition between titanium and aluminum jobs
Compact footprint allowed the shop to fit more machines on the floor, increasing throughput and shop capacity

Consistent, long-term growth can be an often sought but seldom achieved goal, and it takes careful planning to grow your machine shop successfully. If the chips fly too fast, you could get inundated with orders, overwhelmed, and spread your resources too thin – potentially causing you to miss deadlines and damage your reputation. But if you don't grow fast enough, your competitors will add capacity and more capabilities, make more accurate cuts, and expand their services – leaving you behind.
One of the most critical aspects of stable growth is a machine's footprint. Fitting a machine in your shop is one thing, but finding the best platform for the best space is another challenge. You have to consider how many machines you can fit in your shop while making sure you have room to grow in the future.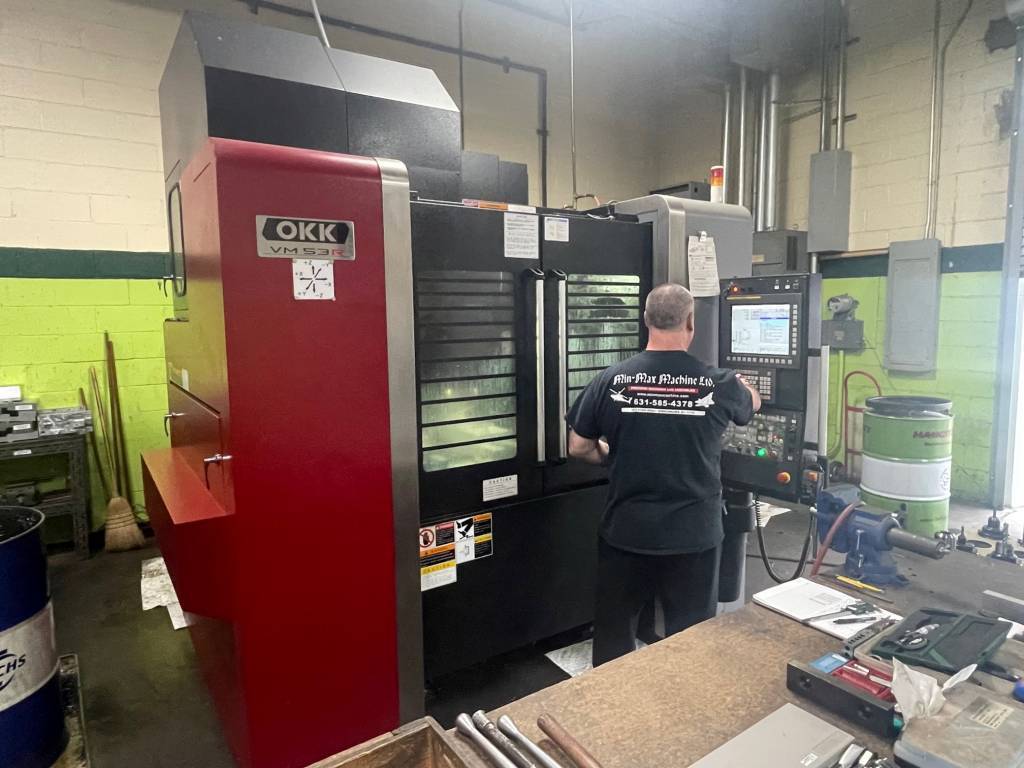 Randy Neubauer, president of Min-Max Machine, found the best solution for his shop by examining what he needed in the short term and where he wanted to go down the road. Headquartered in Ronkonkoma, New York, Min-Max is a first-tier aerospace component manufacturer.
Neubauer's father founded the company in 1971. Randy Neubauer has been in the industry for more than 40 years, and during that time, he's worked with just about every type of machine tool.
While earning his mechanical engineering degree, he spent countless summer hours at Min-Max. After graduating, he got hands-on experience as a design draftsman at Bridgeport Machines, Inc. He's worked with conventional equipment, Bridgeport's "true trace" machines, and some early CNC machines.
He's seen it all before, but OKK has always stood out from the crowd.
At about three years ago tradeshow, he had the chance to get up close and personal with an OKK VM53R.
"I was able to put a tape measure to it and get a good sense of the machine," he said. "I could clearly see the footprint was small, but the machine's capability and capacity were big."
Later, in 2019, he realized he needed some new equipment. One of his existing machines was starting to show its age. Surface finishes and cycle times were slipping, taking a toll on the day-to-day operations of the shop. Neubauer learned that examining a shop to see where improvements can be made is a worthwhile endeavor.
"We upgrade every year or every two years, it was time for a new machine," Neubauer said.
There was a lot to consider.
The ideal machine also needed to take up minimal floor space. Since Min-Max Machine consistently invests in new equipment, each machine needs to pull its weight around the shop. The company needs to utilize every inch of floor space, and every platform needs to demonstrate its value.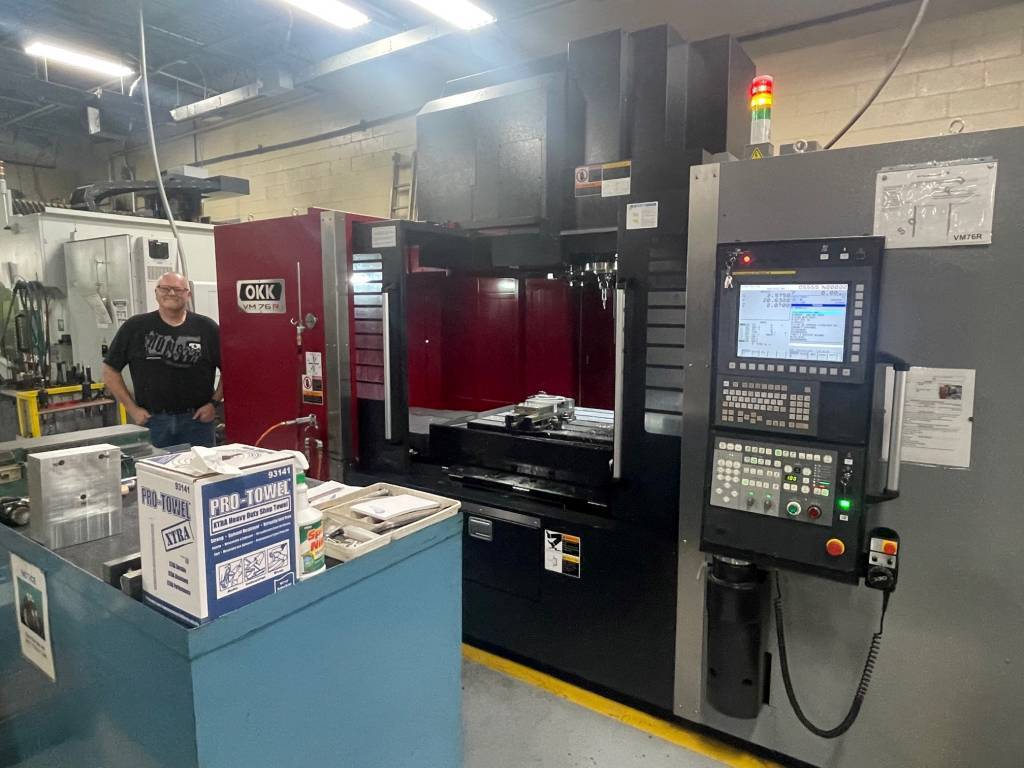 Neubauer knew there were many good options with those prerequisites in mind, but only one machine was the best fit for his shop: OKK's VM53R.
Soon enough, he contacted his longtime machine tool dealer and partner.
The machine's dual-contact, 50-taper CAT spindle and low torque enable it to slice through titanium like a hot knife through butter. The combination of torque and horsepower enabled Min-Max to rough and finish titanium faster.
"The low-end torque was superior," said Neubauer.
It didn't take long for Neubauer to see how the VM53R squared up against the other machine. The finishes were better. Cycle times were faster. His machinists could easily switch back and forth between aluminum and titanium.
With the Methods team's successful integration of the VM53R into Neubauer's operations, his shop has been able to cut hard metals more quickly, allowing the shop to become more competitive.
"Simply put, the more time it takes, the more expensive it is to make. And the small footprint gave us the ability to fit in more equipment, hence the second VM53R."
The machines have given Min-Max more uptime than the shop's previous setup. Neubauer hasn't had to spend a dime on maintenance, which also means he's able to keep the spindles running on the two machines longer compared to the competing brand.
The reliability of the VM53R made it easy to purchase another OKK machine when the time came, this time a VM76R. Neubauer later partnered with Maruka USA for machine requirements.
"They're just easy to setup and easy to use," Neubauer said. "Everything on those machines is at least as good as, if not better than, the competitors."
Request Information
Get advanced machining solutions that grow your business.