Kiwa
KH-4100kai
KIWA KH-4100kai is a high-performance horizontal machining center with full rotary B-axis can be installed in a space for a vertical machining center. The KH-4100kai is designed as slim as possible.
Compared to KIWA HMC model KH-4500kai, the KH-4100kai saves floor space by 45%. In spite of the compact design, the KH-4100 is equipped with full specs for a variety of workpieces and factory automation equipment. The KH-4100kai is equipped with a wide center trough in the machining area and a strong bed coolant wash. Chips will go directly down the center trough for disposal at the rear of the machine. Sheet metal covers on both sides are steeply slanted to guide chips to the trough.
Request Information
Or call 1-877-668-4262
Product Details
Product Details
(4) Simultaneously Controlled Axes
Provision for Coolant Through Spindle
Coolant Chip flow System
Spindle Oil Cooler
Pallet and Chip Wash
Chip Conveyor – LNS-Turbo MH500
Tool Life Management
AICC2 400 block look ahead
1280 Meter / 512 kB Memory
Helical Interpolation
200 Tool Off Sets
Macro Programming
Travel
X-Axis Travel

20.1 (510) in (mm)
Y-Axis Travel

20.1 (510) in (mm)
Z-Axis Travel

20.1 (510) in (mm)
4th Axis Travel (Rotary Table)

0 to 360 degrees
Pallet
Pallet Surface to Spindle Center

2APC: 2.0-22.0 (50-560) (single pallet: 6.9-27.0 (175-685)) in (mm)
Pallet Center to Spindle Nose

3.9-24 (100-610) in (mm)
Pallet Size

15.7x15.7 (400x400) in (mm)
Pallet Load Capacity

1100 (500) lbs (kg)
Max. Workpiece Size

21.7x33.5 (550x850) in (mm)
Pallet change Time

12.5 sec
Feed Rate
X-Axis Rapid Traverse

3149 (80) in/min (m/min)
Y-Axis Rapid Traverse

3149 (80) in/min (m/min)
Z-Axis Rapid Traverse

3149 (80) in/min (m/min)
4Th Axis

37 rpm
Cutting Feed (X/Y/Z)

1181 (30) in/min (m/min)
Spindle
Spindle Power

20 (15) HP
Spindle Speed

15000
Spindle Taper

Cat 40
Tools
Standard Number of Tools

60
Maximum Tool Weight

17.6 (8) lbs (kg)
Maximum Tool Length

15.7 (400) in (mm)
Maximum Tool Diameter

3.3/5.5 (85/140) in (mm)
Tool Changing Time- Tool to Tool

0.9 sec
General
Coolant Tank Capacity

79.3 (300) gal (L)
Machine Weight

2APC+60ATC: 16940 (7700)
Machine Control

FANUC 0i-MF
Sorry, there are no demos for this machine.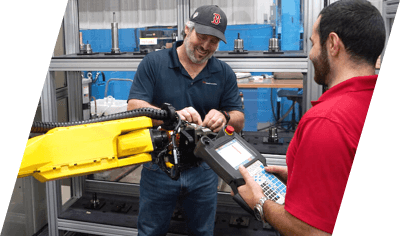 Financing
Get machining solutions that grow your business.