Methods Machine Tools Offers High Precision YASDA 5-Axis Machining Centers for Automotive Manufacturing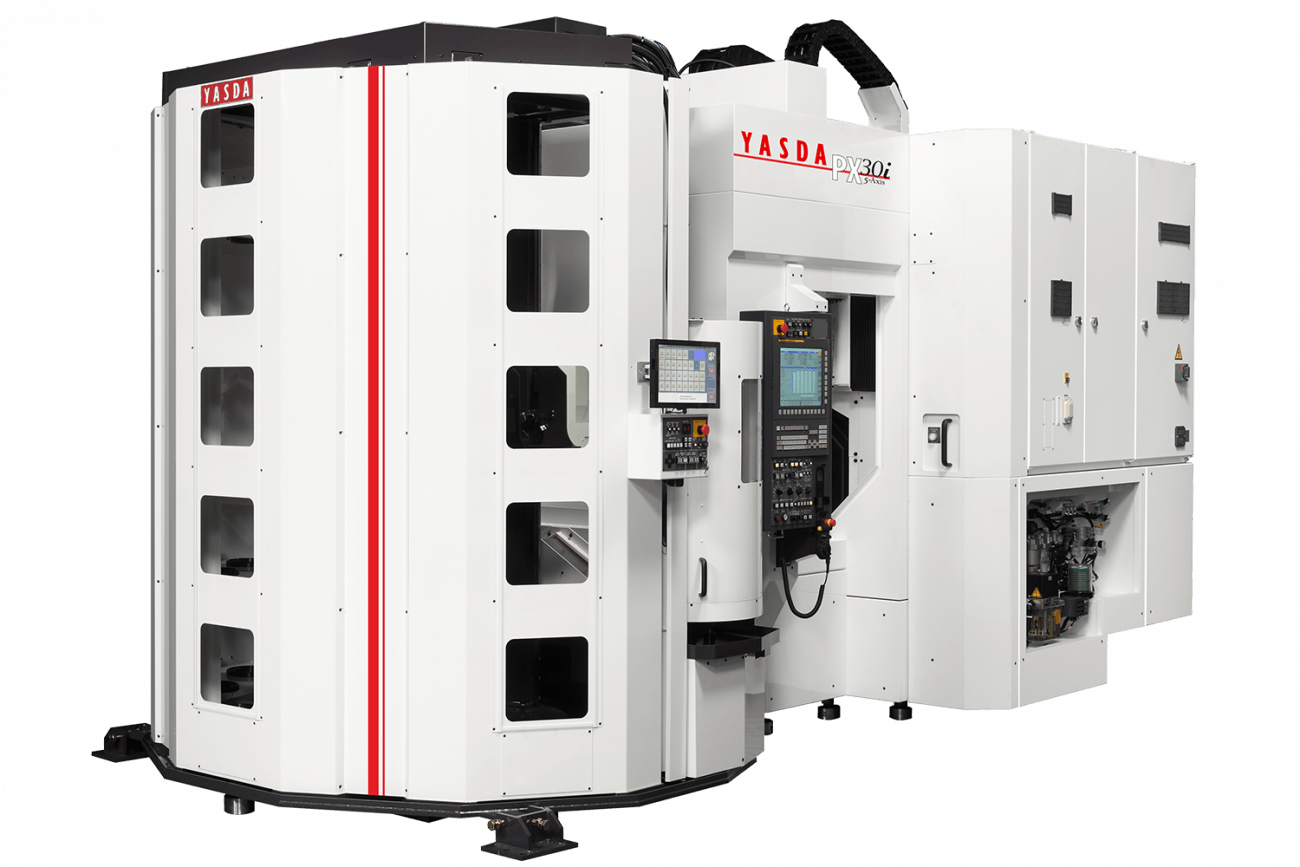 Methods Machine Tools, Inc., North America's foremost supplier of leading-edge precision machine tools and automation, offers 5-Axis YASDA machining centers for a range of industries, including automotive.
The YASDA PX-30i 5-Axis High Precision, Automated Vertical Machining Center has a recently increased automatic tool changer capacity of up to 513 tools, and features exceptional quality and flexibility to meet challenging OEM and job shop requirements in a wide range of industries including automotive, die and mold, and more.
"The PX-30i is a production workhorse for customers with the most demanding accuracy, quality and production requirements," said Mr. Dale Mickelson, Technical Sales Director, Methods Machine Tools, Inc. "From drilling, face milling, boring, and milling, the YASDA PX-30i excels in wide range of challenging materials."
In addition, the high-end YASDA Micro Center YMC650 RT20 5-Axis state-of-the-art machining center is well suited for automotive manufacturers, and addresses the rapidly increasing demands for ultra-precise parts and high quality surface finishes. The YASDA YMC650 RT20 now features the HSK-40 high-speed 40,000 RPM spindle, compared with the HSK-32 on earlier models. The bigger diameter on the "HSK-40" spindle will allow for higher rigidity on deeper cuts and when hard milling, and offers symmetry both longitudinally and horizontally. The spindle is designed and manufactured by YASDA to minimize vibration and offer high reliability and repeatability in micro milling applications.
Mickelson said, "In the automotive industry, people generally think of production as the biggest driver, but due to the more advanced technology going into cars today, precision is becoming increasingly important. For example, headlamps, reflectors, rear view cameras, lane departure and other optical/ sensory based technology all start with extremely tight tolerance molds.  All lens molds such as the reflector mold in Figure 1, require the most accurate surfacing capabilities since this type of mold can be damaged by inadvertently hand polishing critical features out." Through its partnership and collaboration with YASDA, Methods has created a process that can machine a mirror finish using special tooling on several  YASDA machine tools. "In addition, a unique thermal distortion stabilizing system sustains machining accuracy over high volume part runs which is key for automotive part manufacture," said Mickelson. Raised bed sides also increase machine rigidity.
YASDA PX-30i
The PX-30i offers a turnkey automated machining center solution designed to answer a wide range of manufacturing requirements for OEMs and job shops including a high volume, low mix of parts, or a low volume, high mix of parts with differing lot sizes, part geometries and materials. Offering manufacturers the ability to do lights-out or unattended manufacturing, the YASDA PX-30i features a full complement of 32 pallet positions storage and one in the work zone for a total of 33. The Automatic Tool Changer (ATC) and Automatic Pallet changer (APC) features a Methods-developed software program for efficient tool / pallet management and advanced scheduling functions.
The PX-30i features a YASDA in-house built, direct-drive spindle with self-adjusting preload, which is designed based on YASDA's proven, renowned spindle technology to improve performance and increase spindle life. The spindle features the torque, speed and horse power to facilitate the efficient machining of a wide range of materials from aluminum to high temperature alloys, including Inconel, titanium and steels with high HRC ratings.
At the core of the PX-30i is a robust 2-Axis rotary table, offering flexibility and speed with a wide range of movement. Providing high efficiency and accuracy to operators with a wide range of performance requirements, the B and C Axes feature a direct-drive motor with advanced thermal stability. Robust bridge and bed designs have been built upon YASDA designs that have long been the choice for the superior metal removal capabilities and high rigidity required for precision machining. The machine table and work envelope are sized for ease-of-operation.
Travels for the X,Y,Z Axes are 26.8″ x 15.8″ x 19.7″ (680 mm x 400 mm x 500 mm), respectively with B-Axis (tilt table) of +65° to -125° and a C-Axis (rotary table) at 360° (0.0001°). The YASDA PX-30i features a powerful FANUC 31i-B5 controller and has a 10.4″ color LCD monitor. To maximize valuable floor space, the PX-30i has a footprint of 22 ft. (length) by 11 ft. (width). To view a video showing the YASDA PX-30i roughing Inconel 718 with ceramic, visit click here.
YASDA YMC650 RT20
A direct drive motor-driven, high precision tilting rotary table is also standard on the YASDA YMC650 RT20. This combination provides multi-face indexing and machining, as well as simultaneous 5-Axis machining without re-chucking. Applying the direct drive motor to a tilted rotary axis creates backlash-free, high-speed, high-precision positioning.
A symmetrical H-shaped column and a low center of gravity provide high rigidity to the YMC650 RT 20 machine structure. Linear motor-driven axes and a highly rigid machine structure offers users the highest speed, precision and surface quality machining in its class. The YASDA YMC650 RT20 has a linear positioning accuracy of +/- 1 µm.
The YASDA YMC650 RT20 has X,Y,Z travels of 23.6″ x 19.7″ x 11.1″ (600 mm x 500 mm x 280 mm), respectively, with a B-Axis (tilt table) of -10° to 100° and a C-Axis (rotary table) of 360° (0.0001°). An automatic tool changer holds 32 tools and is available in a 90-tool, large-capacity configuration. The powerful, user friendly FANUC 31i-B5 with an iHMI touch panel display is furnished standard.