Case Study
Acratech, Inc.
Request
Information
---
Problem
Old machines needed too many service calls, which were hindering growth and reducing uptime.
Solution
Methods installed the FANUC RoboDrill and provided its world-class support and service.
---
Results
Far fewer service calls
Improved uptime
Faster tool-to-tool change time
Greater throughput

Company
Acratech, Inc.
---
Location
Pomona, Calif.
---
Website
www.acratech.net
---
Innovator Gets the Machine and Support that Meet his High Standards
Scott Dordick is an innovator with an eye for quality. Dordick founded Pomona, Calif.-based Acratech in the early 1990s. At the time, the company was a job shop that produced components for various industries.
An avid photographer, Dordrick was backpacking in 1999 when he found traditional ball heads – a spherical tripod component that provides quick, accurate rotation – were not living up to his expectations. Existing ball-heads and tripods had reliability issues and were literally slowing him down due to their weight.
"I knew I could design something better," he said. He designed something much better, and soon Acratech was producing ball heads, tripod accessories, and photographic equipment. Today, Acratech's products are used by professionals all over the globe, from National Geographic photographers to U.S. Navy SEALs.
The number of new Acratech orders were soaring to new heights in the early 2000s, and the manufacturing setup was not getting the job done. "I don't like to admit it, but our existing machines needed too many service calls," Dordick said.
Acratech manufactures high-performance products; customers cannot replace something on the fly while photographing wildlife in Antarctica or the Serengeti. When Dordick began his search for a new machine, he wanted something with the same quality, performance, and precision instilled in Acratech's products.
After speaking with other machine shop owners, it was clear there was only one CNC machine that could meet his needs: FANUC's RoboDrill.
Reviewing the specifications on paper was helpful, Dordick said, but it was seeing the machine in action, witnessing the fast acceleration that solidified his decision.
We immediately realized how much faster and quieter it was than our other machines. The tool-to-tool change time is so fast; you're not even quite sure what you saw. It's just so efficient.
Scott Dordick | Owner, Acratech
Realizing the RoboDrill's Results
Gone were the days of 1.0″ thick folders full of repair receipts. Dordick found the same reliability in Acratech's ball heads in the RoboDrill. Dordick said Methods' Sales Engineer Wayne Thomas makes it right in the rare occurrence something does go wrong.
The business owner recalls one instance where a tool holder broke. "It was no fault of Methods, but Wayne was right on top of it," Dordick said. "He was out here immediately and was instrumental in getting us all of the information to get the machine fixed right away."
The company has continued to expand, new orders have continued to flow in, and Dordick purchased another RoboDrill in 2020.  Being a small, multigenerational, family-owned business, Dordick said having someone there to ensure an installation goes smoothly makes a big difference.
"Wayne has been really good at making sure we have everything we need, and everything is working right," he said. "Just being right there if we need anything, I think that's important."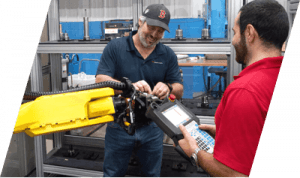 Get Machining Solutions That Grow Your Business.