Press Release: Methods Machine Tools Releases Adaptable, Compact, Horizontal Machining Center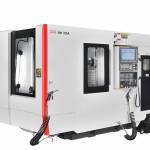 Methods Machine Tools Releases Adaptable, Compact, Horizontal Machining Center
Sudbury, Mass., February 26, 2021 – Methods Machine Tools, Inc., the foremost supplier of high-quality machine tools in North America, recently unveiled its latest horizontal machining center (HMC), the MH 320A.
Combining unique features and leading industry-standard components, such as the FANUC 0iMF control, creates the ideal precision machine tool for those entering the HMC market.
"The MH 320A is a well-rounded four-axis machine tool," said Nicholas St. Cyr, Methods Machining Center Product Manager. "Methods designed the platform to excel in any role, whether it's the versatile backbone of a job shop or manufacturing a consistent stream of parts for the medical and sporting goods industries."
The machine is equipped with a PC2 automatic pallet changer (APC), with each pallet spanning 12.6"/320 millimeters (mm), lowering cycle times and increasing throughput. Weighing 14,550 pounds (lbs), the MH 320A packs powerful features in a small package, maximizing productivity and utilizing every inch of floor space. The work envelope measures 16.9"/430 mm in diameter by 18.7"/457 mm in height, and can handle workloads of up to 551 lbs/250 kilograms.  This extensive work area enables users to process a diverse range of parts.
Other features include a 40-tool automatic tool changer (ATC) with functionality for big and heavy tools, improving the machine's versatility. The BIG-PLUS 40 taper direct-drive spindle ensures tool longevity and optimal part finish.
The MH 320A is a part of the Methods Machining Center product line. Developed by Methods utilizing decades of machining experience and manufactured by Litz Hitech Corp., each machine is backed by Methods' industry-leading service and support. All Methods Machining Centers are engineered to precise standards, inspected to meet strict quality and design specifications, and comply with ISO/ASME standards. Additionally, the product line is the only brand of machining centers manufactured by a Taiwanese company with FANUC controls.
About Methods Machine Tools
Methods Machine Tools, Inc. supplies high-quality machine tools and automation equipment, in addition to creating custom machining processes and systems. Headquartered in Sudbury, Mass., and in operation since 1958, Methods provides superior products, engineering, support, parts, training, and integration services. With more than 300 employees, nine technical centers, a precision center, Methods has installed more than 40,000 throughout North America. For more information, call 877-668-4262 or visit www.methodsmachine.com.