Methods Machine Tools Appoints Jerry Rex as Chief Operating Officer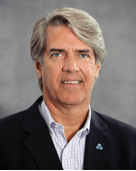 Methods Machine Tools, Inc. (www.methodsmachine.com), a leading supplier of innovative precision machine tools, 3D printing technology, automation and accessories, announced the appointment of Mr. Jerry Rex as Chief Operating Officer of all Methods Machine Tools operations, effective today. The key appointment of Mr. Rex, a manufacturing industry veteran with more than 25 years of management experience, complements Methods' strategic plans for future growth.
"It is my distinct pleasure to have Jerry in this new position on our management team," said Mr. Bryon Deysher, President & CEO, of Methods Machine Tools, Inc. "Jerry brings an energetic, passionate approach to leadership and shares the vision for Methods' future. He is an excellent communicator, motivator and team builder who will have assignments that will touch every level of the organization."
Spanning 40 years, Mr. Rex's manufacturing career began with a machinist position at GE Locomotive and he steadily rose from roles in engineering and applications to production and sales management and executive positions at manufacturers and machine tool organizations. Most recently he served as Executive Vice President of Concept Machine Tools (Minneapolis, MN). Prior to Concept Machine Tools, Rex was President of Hegman Machinery, LLC, a Morris Group Company, from 2013 to 2015 and 10 years prior he had roles including President of Morris South (Charlotte, NC), Vice President of Gosiger, Inc. (Dayton, OH) and Regional Manager of J&H Machine Tools (Richmond, VA). Mr. Rex also served as first Vice Chairman of AMT, where he continues to serve on the Board of Directors. Rex will be based out of Methods Machine Tools Corporate Headquarters in Sudbury, MA.
About Methods Machine Tools
Methods Machine Tools, Inc., in operation for over 55 years, is a leading supplier of precision machine tools, 3D printing solutions, automation and accessories, providing extensive applications engineering support, installation, parts, service and training through a network of large state-of-the-art technology centers and dealers throughout North America. For more information, please contact Methods at 65 Union Avenue, Sudbury, MA 01776, TEL: (978) 443-5388, FAX: (978) 440-9405, Email: sales@methodsmachine.com