Yasda
YMC430
The YASDA YMC430 Micro Center is available in 3-axis or 5-axis versions. The YMC430 answers the rapidly increasing demands for ultra-precision and high surface quality milling in the fields of medical equipment parts, IT related parts, high precision miniature die and mold etc., where the technologies are constantly advancing. All controlled axes (X, Y and Z) driven by high speed linear motors, highly rigid symmetric frame design and a unique thermal distortion stabilizing system which sustains machining accuracy in long cycle time operation, will assure unsurpassed high accuracy and excellent motion performance in various applications. The 5-axis version is integrated with a high precision rotary tilting table with direct drive motors.
Request Information
Or call 1-877-668-4262
Product Details
Product Details
X/Y/Z Axes Controlled by High Speed Linear Motors
Symmetrical H-shaped Column
Spindle Head Symmetrical Longitudinally and Horizontally
Raised Bed Sides for Increased Rigidity
Low Centroid X-Y Table
Ultra Precision Linear Guides
High Precision Positioning
Large Capacity HSKE32 Spindle Taper
High Quality Surface Finishes
Positioning Accuracy < 1μm
Thermal Distortion Stabilizing System for Sustaining High-precision Machining
High Speed Positioning
Large Cutting Tool Capacity
Optional RT10 5-Axis Rotary Table
Travel
X-Axis Travel

16.5 (420) in (mm)
Y-Axis Travel

11.8 (300) in (mm)
Z-Axis Travel

9.8 (250) in (mm)
B-Axis (tilt table)

+100 to -10 degrees
C-Axis (rotary table)

360º (0.0001º)
Distance from Table Surface to Spindle

5.9-15.8 (150-400) in (mm)
Feed Rate
X, Y, and Z Rapid Traverse

20,000 mm/min (787ipm)
B-Axis (tilt) Rapid Traverse

100 rpm with DD motors
C-Axis (rotary) Rapid Traverse

200 rpm with DD motors
X, Y and Z Axes Cutting Feed Rate

Max. 12,000 mm/min (472ipm) with HAS
B-Axis (tilt) Cutting Feed Rate

40 rpm with HAS
C-Axis (rotary) Cutting Feed Rate

40 rpm with HAS
Table
Table Working Surface

23.6x13.8 (600x350) in (mm)
Table Loading Capacity

221 (100) lbs (kg)
Spindle
Spindle Speed Range

200-40000 rpm (opt)
Spindle Taper

E-32
Tooling
Number of Tools

32 (90) std (opt)
General
Machine Control

FANUC 31i-B5 - 15" Color LCD
Sorry, there are no demos for this machine.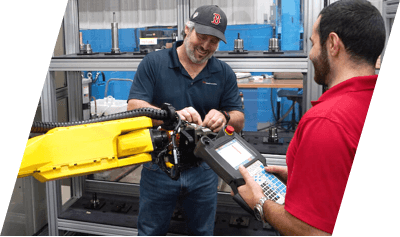 Financing
Get machining solutions that grow your business.