Methods

MV 1000L
The MV-L series of machines combines high-end features such as 19 hand-scraped surfaces, alpha-series FANUC motors, a BIG-PLUS and a dual-contact spindle, and a complete chip management system that includes dual augers, chip conveyor, coolant flush and wash,  put the MV-1000L well ahead of the basic industry standards.
"We created the MV 1000L with every shop owner in mind. No matter what type of job you throw at it, this machine will deliver. This is the cornerstone of a machine shop, a Swiss army crafted with high-quality components and design features." – Nick StCyr, Methods Product Manager
Request Information
Or call 1-877-668-4262
Product Details
Product Details
Features & Benefits
FANUC 0i-MF Plus Control
Linear rail-type guideways in the X/Y/Z-axes
Grease lubrication spindle
Thermal compensation
1.8 second tool-to-tool change time
Complete Chip Management System
19 hand-scraped surfaces
Technical Data
Travel
X Axis

39.4 (1000) in (mm)
Y Axis

20.47 (520) in (mm)
Z Axis

20.7 (525) in (mm)
Table
Table Dimensions

45.3x20.5 (1150x520) in (mm)
Maximum Load

882 (400) lbs (kg)
Spindle
Spindle Speed

12,000 RPM
Spindle Taper

40 Taper
Spindle Power

20 HP
Feed Rate
X/Y/Z Rapid Travel

2362/2362/1181 (60/60/30) in/min (m/min)
ATC
Number of Tools

30
Maximum Too Weight

15.4 (7) lbs (kg)
Maximum Tool Length

11.8 (300) in (mm)
General
Floor Space

107.3 x 96.5 x 118.1 (2725 x 2450 x 3000) in (mm)
Machine Weight

15,432 (7000) lbs (kg)
Videos
Sorry, there are no videos for this machine.
Demos
Sorry, there are no demos for this machine.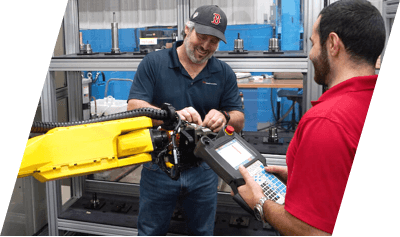 Financing
Get machining solutions that grow your business.