This blog first appeared on Modern Machine Shop.
Cutting hardened steel, titanium and other difficult materials requires picking the right tools, eliminating spindle runout and relying on best practices to achieve tight part tolerances.
---
Steel, cast iron and aluminum are the workhorse metals most industries rely on. However, working in the aerospace, defense or medical industries often means working with difficult metals. These shops rely on hardened steel, titanium, heat-resistant nickel alloys and other materials that are notorious for the difficulties they present to machinists.
When working with exotic and difficult to machine metals, following correct practice is key. "Machining hard metals is a delicate process," said David Moore, an applications engineer with Methods Machine Tools. "There's a lot of room for error, machining takes more time, and you have to fine-tune every aspect of your process. When you're dealing with expensive, exotic materials, preparation is critical."
Cutting Tool Management
When cutting difficult materials, one of the most important considerations is the cutting tool itself. "Getting the tools to last is one of the biggest challenges," says Ben Morone, another applications engineer from Methods. Harder metals can eat through the wrong inserts almost as quickly as you can replace them, and some materials warp and bend in ways that can keep heat trapped in the cutting tool.
Moore and Morone both emphasize how valuable it is to have the right coating.
"Coating is very important, especially with harder materials." says Moore. "If you use a standard coating on a carbide end mill, you're going to burn through that quick. If you use the proper coating – with the proper speeds and feeds from your vendor – you're going to be able to fly through the material, you won't burn up your cutters, and you will hold to tolerance."
Cutting tool manufacturers are a vital resource. "You've got to lean on cutting tool manufacturers because they do so much research in their cutting edges and coatings," Morone says. "Many shops don't know outside of trial and error which tools to use or under what conditions."
Manufacturers will have a good idea of whether to use cutting tool fluid, which tool geometries work best for a given material and under what circumstances, and which coatings will work best for a given material.
Additionally, you should not always rely on the same vendor. Having a diverse vendor base of five or six providers will enable a shop to speak to a variety of experts whose tools will be appropriate for different jobs. "Some tool lines will work great for hardened tool steel, but just can't cut titanium," Moore says.
"If you get a titanium job, you need to go to a different vendor." Building those relationships and relying on experts to prove the value of their tools to you must be part of a shop's process if it wants to cut these difficult materials.
"The benefit of working with a company like Methods is we already have the experience working with different cutting tool vendors," says YASDA Product Manager Kevin Lichtenberg. "We try to share that experience with our customers and make it easier to find the right tool for the right job."
FIGHTING RUNOUT
Every shop tries to reduce runout in machining operations. However, as runout can be an annoyance cutting aluminum or steel, it can cause scrap and ruin your profitability when working with nickel alloys or titanium. If reducing runout is recommended when cutting most metals, it is a top priority when working with difficult materials.
A high-quality toolholder will reduce runout and prevent vibration from seeping into the system due to poor centering, imbalance, and loose toolholder to spindle bore contact. Gaining that stability will give your workpiece a more precise finish.
"The higher the quality of the toolholder you're using," Moore says, "the better the position you'll be in when it comes to having better tool life and more accurate parts."
Moore and Morone both recommend milling chucks, heat-shrink holders and hydraulic toolholders. According to Moore, "If you spend a bunch of money on the machine tool and a bunch of money on the cutting tool, but you're using a bad toolholder, then you're not going to see any benefits."
When selecting a toolholder, consider the tapers. "Dual-contact tapers like you find in the Big Plus line from Big Daishowa provide extra stiffness that can be valuable when milling aerospace materials," said Lichtenberg. These toolholders provide taper and face contact which increases the friction holding the toolholder in place. "Runout is your worst enemy, and fighting it means focusing on the tool, toolholder, taper and spindle all together," Lichtenberg added.
Machine tool damping: the fight against chatter
While runout is a major issue, it is not the only source of inaccuracies in machining difficult materials. "The whole machining system is basically a set of springs and dampers." Lichtenberg says. "You have to find the weak spot and make that as strong as you can, whether that's the bed or the spindle or anything else."
Cast-iron beds and components, for example, are excellent for damping vibrations in the machine tool due to their material properties and enormous weight. Additionally, machine tools with core component and spindle-cooling systems and a high degree of thermal stability within the work area are vital. "Heat builds up throughout the cutting process," Lichtenberg said, "If it's left unchecked, it will cause inaccuracies to seep in."
Fixturing is also vital, but there are fewer hard rules for it. "The workholding you use will depend on the job and the shape of the part," but you have to make it as rigid as possible," Moore said. This could require bolting the workpiece directly to the bed, and self-centering vices are great tools.
"For five-axis machining, I've had great results with dovetail holders," Morone says. Regardless of the solution, ensuring the part's rigidity is an absolute must.
Methods' YASDA product line brings a lot of these damping features into consideration. "The YASDA is designed for this type of application," Lichtenberg said. For starters, the cast-iron structure bed and excellent thermal control reduce vibrations and inaccuracies caused by heat buildup. Additionally, the spindle is designed for accuracy, rigidity, and a proprietary YASDA system to run with the optimal bearing preload at high or low RPMs.
"Because of all that, the spindle runout is less than 1 micron," he added.
Moore and Morone also credit YASDA's precision capabilities. "On a YASDA, we replaced our individually sized boring bars with a circular interpolation, and it worked perfectly," Morone says. "On a YASDA, you can take a good machinist and get the work of a master machinist because you know your work is going to be accurate," Moore said. "I know that machine is going to do exactly what I want it to do."
Yet, even with the highest-quality machine, best practices are still key. "With exotic materials, you have to do everything right," Moore said. "Know your speeds and feeds, choose the right tooling, control your chips. Do things the right way, and you'll make good parts."
FANUC RoboDrill Milling Steel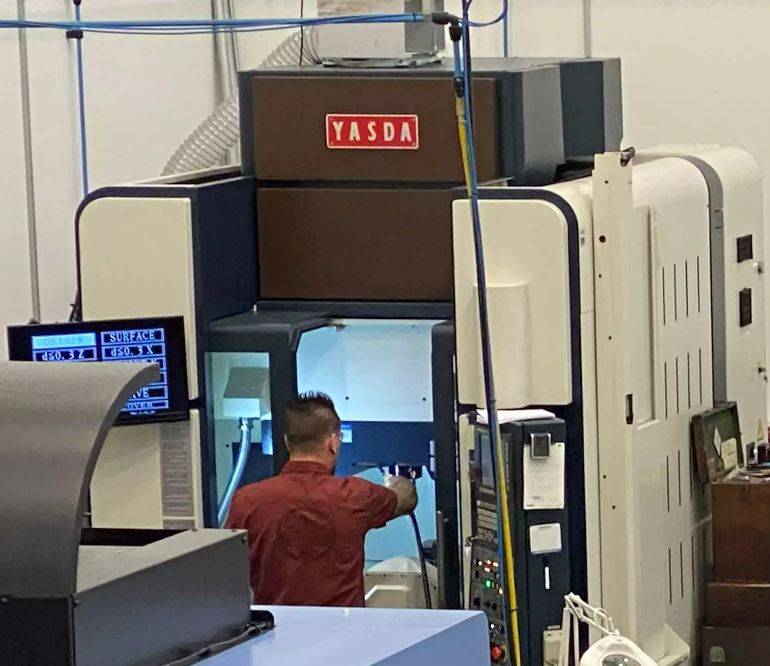 Medical Mold Manufacturer Realizes
Surgical Precision with Yasda YMC 430