Up in the Air: How Aerospace Machine Shops can Maintain Altitude When Aerospace Takes Off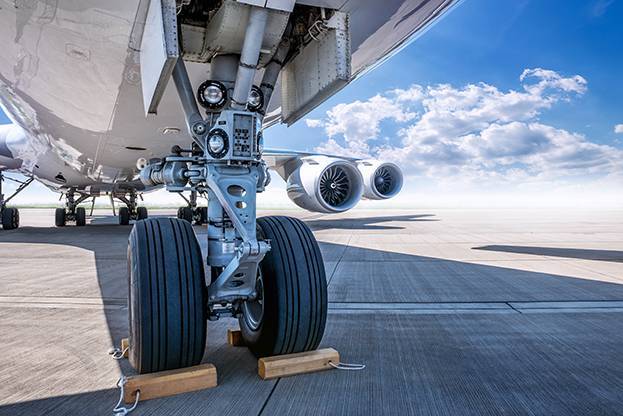 Commercial air travel is organized chaos. The scheduling and tracking of millions of flights each year, combined with the technological marvels of building a modern aircraft, is a testament to manufacturing and logistics.
The COVID-19 pandemic and ensuing containment efforts grounded the industry. Manufacturers reliant on aerospace manufacturing or the strength of airlines faced hard choices. Many had to reduce their headcount, pivot to other sectors, or fundamentally alter their business model.
COVID-19 hurt more than the multibillion-dollar enterprises. It created havoc across the vast network of subcontractors, machine shops, and job shops at the heart of every headrest, hinge, and horizontal stabilizer used in the aerospace industry.
However, as travels return to the skies and commercial airlines rebound, there are indications that the aerospace industry is pulling up and straightening out. Some industry experts and firms anticipate that the flight plan to recovery is on the horizon.[1][2][3].
Heightened Headwinds
Airlines quickly began showing COVID-19 symptoms early in the pandemic. Two key performance indicators – revenue passenger miles (RPM) and available seat miles (ASM) – rapidly descended in March 2020 (see Figs. 1.1 and 1.2 below).
Revenue passenger miles are the number of miles traveled by paying customers. Available seat miles are the airline's capacity, representing how many seat miles are available.
According to National Public Radio, Boeing lost approximately $12.0 billion in 2020, while The New York Times reported Airbus posted a €1.1 billion loss.
Aircraft orders and deliveries, industries metrics commonly used to gauge the industry's health, followed a similar trend. From 2018 to 2021, Boeing's gross airplane orders fell 78%, from 839 to 184, and deliveries declined 57%, from 806 to 340.
Engine makers and manufacturers that produce other components faced a similar fate. Raytheon Technologies Corp., which owns aircraft engine manufacturer Pratt and Whitney and Collins Aerospace, reported organic net sales decreased by $10.438 billion from 2019 to 2020, attributable to losses from its engine-making subsidiaries.[4].
Weathering the Storm
Reduced flight hours, fleet utilization, original equipment manufacturer (OEM) sales, and fleet repairs pushed aerospace machining demand to painful lows.
"We had immediate order cancellations…we took a haircut on staffing by about 50% across the organization," said Jim Lee, general manager of Tool Gauge.
Tool Gauge is an aerospace component and assembly manufacturer specializing in spare parts based in Tacoma, Washington. Lee is also a board chairman of the Pacific Northwest Aerospace Alliance (PNAA), a trade group representing more than 2,000 aerospace manufacturing companies and 150,000 employees.
Some shops, Lee said, pivoted to other markets during the aerospace industry downturn. "We attempted to broaden the width of some of our non-aerospace stuff, but everybody was doing that," Lee said. "I do know there was kind of a bubble in firearms manufacturing, a lot of shops picked up work in that area."
Other machine shops, including Tool Gauge, had to pare down their manufacturing capacity and capability. In 2020, the company reduced its metal assembly workforce from three shifts to one shift, while the plastics side of the business went from 5 eight-hour shifts per week to 10 four-hour shifts.
"With our skilled labor force, we didn't want to understaff further than we've already done," Lee said. "Because it's so hard to find qualified machinists – and that's still the case and it's always been the case – we hung with people and weathered the storm."
According to Dan Pierce, General Manager of Methods' California technical centers, retaining staff during the downturn was a forward-thinking strategy for aerospace. "As aerospace machining activity begins to takeoff and recover to pre-pandemic levels, those specialized CNC machinists, programmers, and technicians are going to be hard to come by," Pierce said.
Before coming to Methods, Pierce spent more than 20 years supplying CNC machines to significant aerospace manufacturers such as Boeing. During his tenure, he visited countless shop floors and factories and stood in the bones of a jet during its construction.
Historically, the upward trajectory of aerospace manufacturing attracted significant talent and created considerable business for machine shops.
"The aerospace market wasn't cyclical. It was tough work to get, but the industry was strong, consistent, and profitable," Piece said. "All that changed almost overnight. Aerospace machining activity only takes a hit when major world events affect airlines, and COVID-19 proved to be a gut punch for a lot of shops."
Clearing Skies
Like the countless canceled flights since the start of the pandemic, the timeframe for commercial aerospace's recovery has been rescheduled again and again. Though variants have again caused the industry turbulence, airlines and manufacturers began to see bright spots in the summer of 2021.
"It's coming back strong now, and we're starting to discuss adding shifts again," Lee said in late 2021. "We're in an industry that's really going to be the last one out of the ditches. Everyone else is going guns blazing, and we're still going to be limping back to where we were in 2019."
Despite all the certifications and complexities of manufacturing aerospace components, the industry moves fast. Tool Gauge saw a surge of orders in the second half of 2021. Some original equipment manufacturers wanted to expedite parts and inventory.
"Whenever we have those conversations, it's always good," Lee added.
Similar conversations are happening on shop floors, offices, and board rooms across the country. Numerous aerospace companies reported that orders grew significantly in Q4 2021 compared to the same 2020 period and year-over-year improvements (see Figs. 3.1 and 3.2 below).
Raytheon subsidiaries Collins Aerospace and Pratt & Whitney also posted double-digit gains in Q4 2021[5]. Collins Aerospace sales increased 13%, driven by commercial aftermarket equipment sales rising 47%. Pratt & Whitney sales advanced 14% in the quarter, attributable to commercial and aftermarket equipment increasing 32% and 28%, respectively.
Airline metrics improved in 2021 as well (see Figs. 3.3 and 3.4 below), and the trends have continued in 2022.
In May, the International Air Transport Association (IATA) reported that revenue total passenger kilometers advanced 76.0% in March 2022 year-over-year, with the North American market growing 96.5%. This increase marks the closest to pre-pandemic air traffic, but still 41% below the norm.
Aerospace companies benefitted from rising air traffic, with numerous companies reporting greater profits in Q1 2022 and improved their market outlooks, according to SEC filings.
Collins Aerospace Systems operating profits increased 10.39% from Q1 2021 to Q1 2022, while Pratt & Whitney operating profits advanced 12.38%. Parent company Raytheon attributed the growth to higher commercial aerospace aftermarket and OEM sales, which stemmed from more flight hours and improved fleet utilization.
While GE delivered 16 fewer total commercial aircraft engines during the period, LEAP engine deliveries improved 27.13%, from 188 to 239.
Boeing, for its part, posted a slight revenue loss of 2.53%, but reported higher 737 MAX deliveries. The aerospace giant predicts air travel will return to historic norms in 2023 or 2024, and balance out in the following years.
Trickle-down Machining
Like air traffic controllers and pilots, large-scale aerospace manufacturers and smaller machine shops rely on each other. It's a symbiotic relationship. Every component of an airplane, from the seat headrests to the wingtips, requires an extensive, rigorous qualification and certification process.
"Your tier one suppliers are the ones that hold the contracts," Methods' Pierce said. "Those contracts and jobs trickle down to machine shops."
Aerospace suppliers and component manufacturers rely on machine shops of every size and scope.
"It goes all the way down to a machine shop that's not aerospace certified, that may make a non-critical part," Pierce continued. "Because of the critical nature of aerospace manufacturing, nearly every plane component must have dual suppliers. Suppose one of the more prominent aerospace manufacturers runs into a production issue. In that case, it could cause massive repercussions elsewhere in the industry. To maintain strength throughout aerospace manufacturing, there must be alternatives and redundancies."
Pierce noted that some competitors have shared contracts to sustain supply chains. One such instance occurred in 2018. Boeing approached engine-maker CFM International (a joint venture between Safran Aircraft Engines and GE Aviation) to diversify aircraft engine oil tanks. Safran had to subcontract part of the work to competitor Parker Aerospace.
"It doesn't matter what you're making in the aerospace world. You cannot be the only supplier of that part, with the exception of engines," Pierce said.
Gearing Up for Takeoff
As aerospace continues its ascent, shops need to know how to take on more jobs. The level of engineering, complexity, part variety, and manufacturing volume can create many opportunities for shops making aerospace parts. But at the end of the day, tier-one suppliers are responsible for the quality, delivery, and costs of components manufactured by their respective subcontractors. So every supplier throughout the supply chain must be held to high manufacturing standards.
Several crucial success factors to break into aerospace manufacturing are certifications, security, and part traceability.
"If you were a job shop that was used to just letting vendors walk in the back door and roam around the facility, those days are over," said Kevin Lichtenberg, Methods' YASDA Product Manager.
Lichtenberg added that succeeding in the aerospace market means ensuring your data is protected, backed up, and quickly retrievable.
Lichtenberg has experience on both sides of the aisle. Previously, he was the president and general manager of several machining companies, giving him insight as a part manufacturer and machine tool supplier.
There are many certifications a shop may need to obtain in order to remain competitive. Some include various Society of Automotive Engineers (SAE) certifications such as AS9001, receiving a listing on the Qualified Suppliers List of Manufacturers (QSLM) from the Defense Logistics Agency, and compliance with several Federal Aviation Administration (FAA) specifications. Depending on the component and type of aircraft, a shop may also need to comply with International Traffic in Arms Regulations (ITAR).
AS9001, one of the most critical and common certifications, is similar to International Organization for Standardization (ISO) 9000. The standards set high expectations for risk management, safety, design, development, production, and other expectations, according to Smithers, a testing, consulting, and compliance service provider.
While conforming to the alphabet-like list of regulations may seem like a barrier to entry and cost-prohibitive, shops that invest in technology, resources, and infrastructure will prosper.
"It's a necessity," Lichtenberg added. "Some aerospace parts can be very costly to produce, you really can't afford to have a manufacturing process that produces unusable parts."
Quality control is also an essential trait of successful aerospace manufacturing, PNNA's Jim Lee said.
"You need a really strong quality team," added Lee. "Some of these aerospace specifications and callouts are very, very tricky. Somebody in your quality organization needs to be able to understand how to read that parts lists, drawing, get the info out of a model, and understand exactly what's required."
In addition to specialized fixtures and gauges, Pierce said aerospace requires more stringent quality control throughout the entire manufacturing process. It's more than just spot-checking and jotting down some numbers. Less critical industries or products might require every 20th or 40th part to be inspected. However, aerospace machine shops need to review every minute detail and every part for an entire production run.
"For every part that comes off a machine, you need to record and document every feature and measurement, and ensure everything is 100% traceable," Pierce said.
Traceability, Pierce explained, is one of the cornerstones of aerospace machining. OEMs must certify where the material came from, what processes were performed, when they were performed, and by whom. That level of insight is necessary for any part that goes into an airplane. If something goes awry, the OEM is required to identify the problem.
Tool Gauge also implements meticulous planning into each job to ensure every process is completed in the correct order and on time. Its critical diagrams and specifications clearly define every aspect of a workpiece. Some parts might require secondary operations conducted by third parties and then return to the shop for finishing. It's important that the shop knows what process was performed on what machine, when, and the next step in the manufacturing process.
"We don't say 'here's a print, make it'," Lee said. "We give our vendors and machinists all of the information and materials they need to produce the part."
In addition to tight quality controls and operational transparency, machine shops should prioritize upgrading and upskilling talent to ensure one's shop keeps pace with evolving industry trends and customer requirements.
Methods' Lichtenberg compares upgrading and upskilling to reforestation.
"The best time to plant a tree was 20 years ago, the second best time is today," he said." I think the same applies to machine tools, I think it's best to have it before the work comes so you can familiarize yourself with the machine. You're going to need that asset to produce for you when the work comes."
While you don't want to buy a machine to have it sit idle on your floor for months, Lichtenberg said, waiting too long to purchase a machine tool is a different type of gamble. Variables like machine tool availability, options, automation, and builder lead times to delivery and machine tool selection fluctuate, so postponing an investment might leave you in the lurch.
"Shops that get ahead of the curve are going to be at a significant advantage as new business starts to be released," Lichtenberg added.
Specific tools can help machine shops get ahead of that curve more than others.
Like every industry, aerospace manufacturing struggles with a labor shortage, making automation a worthwhile investment.
"Automation systems, in whatever form they take, give a shop the flexibility of being able to run that machine lights-out or lightly attended, which is going to become more commonplace and critical," Lichtenberg said. "A machine you can run all the time is going to be very valuable, even more so as shops come back to a resurging aerospace market."
While there is no one-size-fits-all or best machine for aerospace parts, there are a few qualities potential aerospace shops should consider. Vertical and horizontal machining centers are a common choice since they can offer more stability/rigidity than other types of platforms, and handle a broader range of part sizes, Methods' Pierce noted. The number of intricate features and operations make four- and five-axis machines suitable candidates, too.
Dual-contact and shrink-fit tool holders are common throughout aerospace machining. Dual-contact tool holders provide more surface area contact between the taper of the holder and flange. Greater surface contact improves the rigidity of the platform, which improves surface finishes and tool life, two essential machining aspects in the aerospace industry.
Shrink-fit or heat-shrink tool holders are manufactured with internal diameters that are smaller than the diameter of the tool. Once heated, the internal diameter expands, allowing the shank of the tool to slide into the tool holder. As the tool holder cools, the metal wraps around the shank of the tool, forming an ironclad grip that extends the tool life, reduces runout, and improves rigidity.
"Precision, surface finish, tool life, these are all things that come into play when you're trying to be competitive quoting aerospace parts," Lichtenberg added. "The areas where YASDA excels really are emphasized in the results you see in those kinds of parts. YASDA machines typically give you longer tool life because of stability of the machine and the rigidity of the spindle, with little to no runout."
By applying best practices such as quality control, planning, data security, traceability, and machines and skillsets, up-and-coming aerospace shops can position themselves to take advantage of the industry upswing.
"I think the industry will come back in full swing," Lee said. "I think we're going to get a little smarter and continue to evolve."
[1] The Boeing Co., U.S. SEC Filing Form 10-K, 2021, page 24.
[2] Raytheon Technologies, Raytheon Technologies Reports 2021 Results, Announces 2022 Outlook.
[3] International Air Transport Association, January 2022 AITA Airline Business Confidence Index, pages 1-3.
[4] Raytheon Technologies Corp., U.S. SEC Filing Form 10-K, 2020, page 37.
[5] Raytheon Technologies, Raytheon Technologies Reports 2021 Results, Announces 2022 Outlook.