Methods "TechFest2015" Draws Hundreds to Explore the Future of Manufacturing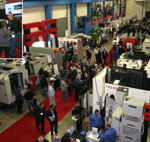 Sudbury, MA, U.S.A. (November 23, 2015) – On November 4th and 5th, Methods Machine Tools, Inc., a leading supplier of innovative precision machine tools, 3D printing technology, automation and accessories, hosted a major open house / show, TechFest2015 – "Manufacturing the Future." The two-day event took place at the company's corporate technology center and showroom at 71 Union A venue in Sudbury, Massachusetts. The highlight of the show was Methods' recent partnership with 3D Systems, of Rock Hill, South Carolina. 3D Systems offers the most advanced and comprehensive 3D digital design and fabrication solutions available on the market today. Methods now offers 3D System's full line of professional and production 3D printers and materials to its customers, taking the 3D process to the next level via full integration with conventional machining solutions.
Methods is the first importer/ national master machine tool distributor to offer a full line of 3D printers that include solutions for both metal and non-metal applications.
A new business unit, Methods 3D, has been formed and will be led by Benjamin Fisk, a former Pratt Whitney Technology Manager and Engineer. Fisk will serve as Methods' General Manager of 3D Additive Manufacturing and is helping to assemble a comprehensive Methods 3D team that will offer sales, installation, service, applications support and spare parts.
"There is a very strong market for 3D printing. We are on the front end of this technology, and we couldn't be more pleased. Our customers have expressed a huge interest in it and we are poised to help integrate 3D printing into their manufacturing solutions," said Bryon Deysher, Methods Machine Tools President & CEO.
"This is a true complement to our other lines of products," added Jamie Hanson, Methods' Director of Corporate Development. "We are dedicating a 3D lab and showroom at each of our seven facilities across the country. At our corporate headquarters in Sudbury, MA, we will house a new 2,000 square foot additive manufacturing lab."
Methods 3D will offer 3D Systems Production Printers that provide direct metal 3D printing, offering a wide choice of materials including ceramics and common metal alloys such as steel, chromium cobalt, Inconel, aluminum and titanium. Inquisitive TechFest attendees expressed interest in the 3D technology and printers on display, and the additive manufacturing seminars were well attended.
TechFest2015 also showcased other machine tool partners, totaling over 30 machines under power. Attendees saw live demonstrations on machines such as the Nakamura-Tome NTRX-300, featuring true opposing twin spindles. This is the world's first twin ATC multitasking B-Axis lathe and also offers the new Nakamura-Tome Smart X control using Windows 8 software. Methods also showcased the Nakamura-Tome AS-200LMY-S sub spindle machine- a High Performance Multitasking Turning Center designed for exceptional value and power. The new AS-200LMY-S offers an upgraded long bed with sub spindle. Also on display was the Nakamura-Tome TW-20-MMY Multitasking Turning Center, offering fast and flexible machining with twin-spindle and twin-turrets.
Other machine solutions highlighted included the YASDA PX-30i, a 5-axis machining center with multiple pallets, increased tool capacity with matrix style changer and an advanced tool and pallet management system, and the YASDA H40i, a well-positioned machine designed to meet the tighter tolerances and shorter cycle times required by manufacturers in segments such as aerospace, die/mold and automotive. KIWA machines were also featured, highlighting the KMH-300 HMC that includes a 30-tool ATC and 15,000rpm BT30-taper spindle, and the KIWA KH-45 series that now includes models with more Y-Axis travel to 29" (737mm), to enable tall parts that would normally require a 500 mm size machine to be processed on a smaller footprint machine, saving both money and space.
FANUC machines showcased included the FANUC RoboCut C400iA, which offers a solid performance in a smaller footprint and the RoboCut C600iA, which represents the best value in its class for Wire EDMs. These EDM machines include several important upgrades, such as the new FANUC 31i-WB Control, which is loaded with new features for improved accuracy and finish, especially in high-taper 4-Axis cutting. The FANUC RoboDrill a-D21LiA5-10K long bed, the largest version in the FANUC RoboDrill lineup, was also on-hand.
FEELER high performance machines on display included Vertical Machining Centers, Turning Centers, Vertical Turning Lathes and Bridge/ Boring Mills such as the FT-350 MC, a 3-axis CNC Mill -Turn Lathe, and the HV-1300, a High Performance Vertical Machining Center with a 30-Tool Dual Swing Arm ATC and a FANUC 31i-MB Control. The VisionGauge® 300 and 500 Series Digital Optical Comparators with patented CAD Auto-Align™ and CAD-Auto Pass/Fail tools™, as well as the new 700 series that features a 5-Axis inspection and measurement system, were also on display.
Other machines Methods at TechFest included the Hanwha XE20-H, an affordable Swiss-type Turning Center with a gear type modular live tool, enhanced durability and a strong/ rigid tool post; Current EDM's CT500, a medium capacity CNC EDM drilling machine specifically designed for production drilling of complex parts that require multi-axis positioning, and Zeiss CMM models.
Attendees also participated in leading-edge technical seminars throughout the two-day event, conducted by manufacturing industry experts.
Sessions included "The Future of Metal Additive Manufacturing: Methods 3D," that detailed 3D Systems advanced technology and how it will complement Methods existing machining solutions.
Other sessions included Keynote Speaker Harry Moser's presentation on the Reshoring Initiative, multitasking, wire EDMing, and automation, among others. In addition, TechFest attendees were treated to a fully catered lunch.
Methods Machine Tools, Inc., in operation for over 55 years, is a leading supplier of precision machine tools, 3D printing solutions, automation and accessories, providing extensive applications engineering support, installation, parts, service and training through a network of large state-of-the-art technology centers and dealers throughout North America. For more information about Methods contact, TEL: (978) 443-5388, FAX: (978) 440-9405