Methods Machine Tools Introduces Next Generation JSC-Pro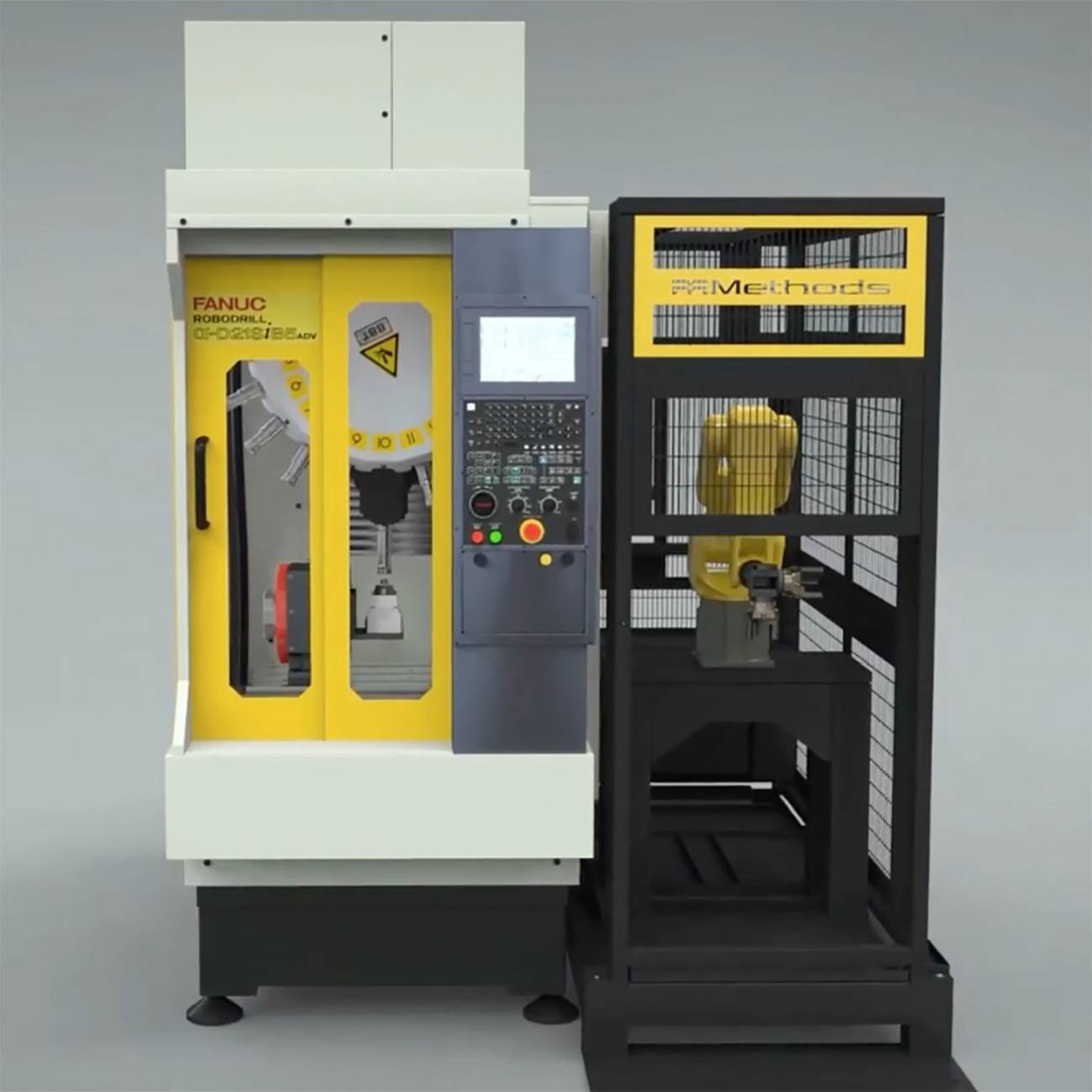 Methods Machine Tools, Inc., North America's foremost supplier of leading-edge precision machine tools and automation, has introduced the JobShop  Cell PRO, a new standard automation solution featuring the FANUC RoboDrill D21MiBADV Vertical Machining Center. The JobShop Cell PRO incorporates a main enclosure with several different pre-engineered end-of-arm and infeed/ outfeed options for a range of part and capacity requirements.
"Building on nearly 15 years of experience with the widely popular JobShop Cell, we are pleased to provide a reimagined standard PRO version which accommodates multiple infeed and outfeed options for high mix, medium volume machining applications," said Mr. John Lucier, FANUC Automation Manager, Methods Machine Tools, Inc. "Having an in-stock automation solution, featuring exceptional, proven technology, saves cost and speeds delivery to our customers."
JSC-Pro features an industrial grade, articulating FANUC 6-axis robot in a versatile aluminum enclosure which allows the RoboDrill to be placed on the left or right side, or in a twin cell with two machines. In the twin cell, two side-by-side RoboDrill machines with a FANUC robot entering from the side of each machine gives operators full, open access to the front of the RoboDrills for tool changes, off-sets and maintenance. Removable panels on the common enclosure allow for several different infeed and outfeed options including conveyors, drawers, lazy susan style pallet systems, as well as interfaces for vibratory and other bulk feeding solutions.
The Compact, High Speed RoboDrill D21MiBADV offers up to 5-Axis simultaneous machining with a 10,000 or 24,000 RPM  BBT-30 spindle. Customers may choose from a 3, 4 or 5-Axis configured RoboDrill, and an array of standard hydraulic or pneumatic workholding options. The RoboDrill features 1.3 second chip-to-chip tool change and 1.5g acceleration/ deceleration. A powerful FANUC 31i-B5 Nano CNC controller provides extremely fast FSSB high-speed processing.
Methods' automation group has more than 30 automation engineers nationwide and provides highly innovative machine tool automation solutions. The automation group includes design engineers, control engineers, fluid engineers, integration/assembly engineers, field service/installation engineers, electrical/mechanical engineers and machinists.
The department quotes, engineers, assembles, tests, installs, trains, runs-off and implements all of their automation solutions. The automation department continually looks for ways to reduce costs and increase production as well as maintaining the quality of the end products. Methods' automation is a complete solution for customers throughout North America.