Flexibility of the RoboDrill helps California Medical Manufacturer Grow

Methods Machine Tools helps manufacturer continue rapid growth thorugh the accuracies and flexibility of the RoboDrill.
Orchid Orthopedic Solutions is a global leader in orthopedic medical device outsourcing that specializes in implants, instruments, and innovative technologies. They offer their customers full-service solutions ranging from design and development through finished goods manufacturing and packaging.
Orchid's facility in Arcadia, an advanced machining division of Orchid Orthopedic Solutions, has been established in California for over 50 years. Originally located El Monte, CA, the division relocated in 2010 into a larger manufacturing space in Arcadia, CA to provide better services to their customers through improved delivery and lead times. Formerly located in El Monte, CA, the division has been established for more than 50 years
Orchid's facility in Arcadia focuses solely on the advanced machining process and finding the best manufacturing solutions for their customers' needs. Specializing in implantable plates, nails and cages for trauma and extremity markets, they are always looking for ways to execute in the shortest time frame and the lowest total cost including the latest practices in lean manufacturing and investing in the newest and best technology.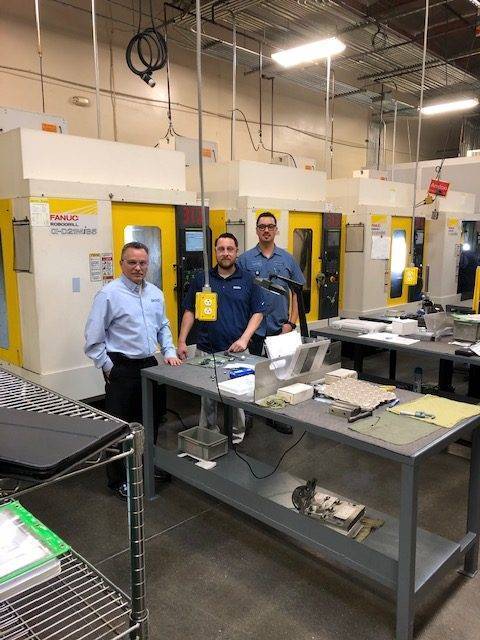 Orchid was first introduced to Methods and their umbrella of services when they added a Nakamura-Tome NTJ-100 to their floor two years ago. The Methods team was able to help Orchid with a turnkey solution and solve an accuracy challenge they were running into. So, when they were looking for equipment to handle a spine correction medical device, Carlos Moran, General Manager for California reached out to Methods.
The spine correction medical device was five tight tolerance components that needed to be effective as a unity. The FANUC RoboDrill proved that it was not only able to hold those tight tolerances, but also machine the parts together and reduce the number of processes. The RoboDrill's smaller footprint compared with other products of the same accuracy saved floor space and allowed Orchid to add more RoboDrill to their floor and increase their production.  The RoboDrill's flexibility, accuracy, and production as well as its easy to communicate with controls and adaptability with automation has allowed Orchid to remove fifteen other platforms.
"We appreciate having the ability to work with one company that can service all of our machines while also providing field engineers to assist us with application challenges we may run into," said Carlos. "Methods' service has been phenomenal and we are excited to see where the next three to five years takes us with Methods and the foundation of the RoboDrill platform."
The FANUC RoboDrill is a high-performance machining center, known worldwide as the most reliable machine manufactured today. RoboDrills make quick work out of any milling, drilling or tapping jobs. Reliability has also been addressed in all areas of the machine design. Coupled with the latest FANUC31i-B5 control, the RoboDrill is the preferred machine in any manufacturing facility large or small.
"We have seen a 30% growth year over year and the FANUC RoboDrill platform and our partnership with Methods has been a big part of that," said Carlos.
The RoboDrill is now the go to platform for any 5-axis mill work for Orchid Arcadia and they are looking to expand on its capabilities by moving more towards automation to help with the skills gap in talent.
---
Learn more about Orchid Orthopedic Solutions and the Arcadia facility by visiting them at www.orchid-ortho.com/arcadia.